2025 BMW M5 Touring Specs, Release Date, Price
By Anthony McGirr
2025 BMW M5 Touring: The Ultimate Enthusiast's Dream
The 2025 BMW M5 Touring is gearing up to be a game-changer in the world of high-performance wagons. With a blend of power, design, and innovation, this vehicle is set to redefine what enthusiasts expect from a sports wagon. Here's a comprehensive look at what the 2025 BMW M5 Touring has to offer.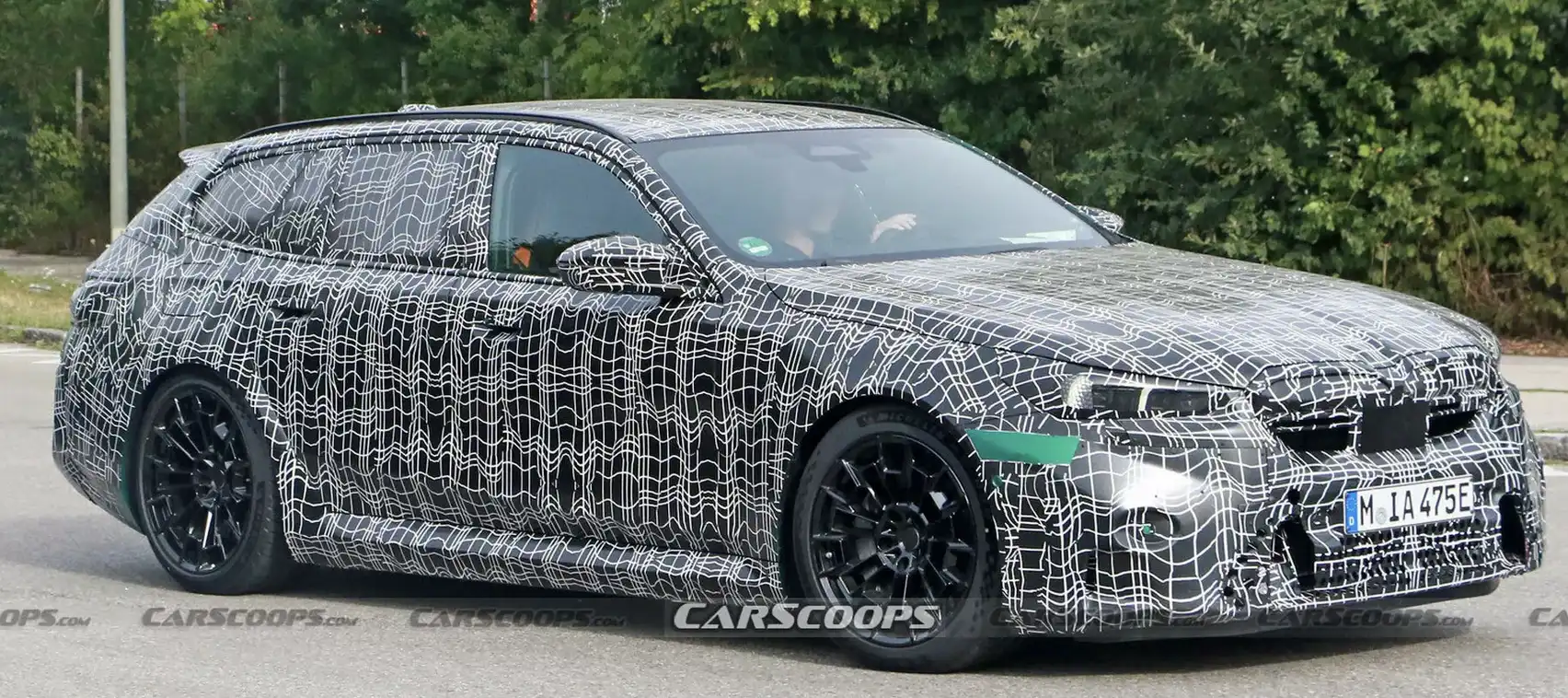 A Nod to the Enthusiasts
BMW has been a spectator while Audi and Mercedes-AMG dominated the mid-size wagon segment. But that's about to change. The all-new M5 Touring is BMW's first in nearly two decades, and while it might sell in limited numbers, its very existence is a testament to BMW's commitment to its enthusiasts. The vehicle is a love letter, a testament to the brand's dedication to those who crave performance in a versatile package.
Design and Aesthetics
The M5 Touring doesn't shy away from flaunting its M lineage. It adopts a wide body design, setting it apart from the standard 5 Series lineup. Despite the heavy camouflage in the spy shots, the aggressive front bumper with its massive air intakes is evident. The kidney grille is unique, reminiscent of the one on the BMW i5 M60, and the headlights are expected to mirror those on the new 5 Series. The car also features seamlessly integrated door handles, a four-tailpipe exhaust system, and a new set of slender horizontal LED strip taillights. The 20-inch front wheels and 21-inch rear wheels further accentuate its sporty stance.
Power and Performance
The 2025 BMW M5 Touring isn't just about looks; it's a powerhouse. Under the hood, it boasts a plug-in hybrid system paired with the new S68 4.4 liter V8 engine. This combination is expected to churn out a minimum of 718 horsepower for its standard variant. While exact torque figures remain a mystery, they're anticipated to be in the ballpark of the BMW XM Label Red's 738 lb-ft. This plug-in hybrid setup also means the M5 Touring can run purely on electric power.
A Glimpse of the Interior
While spy photographers couldn't get a detailed look inside, expectations are high. The interior is likely to feature a Curved Display, comprising a 12.3-inch digital instrument cluster and a 14.9-inch infotainment system. A flat-bottom steering wheel and a minimalist center console will likely complete the cabin's sporty yet luxurious feel.
Read also: 2025 BMW 4 Series Gran Coupe: A Fresh Take on the Facelifted Model
2025 BMW M5 Touring Release Date and Availability
BMW has confirmed that the M5 Touring will make its debut in 2024. Enthusiasts can look forward to seeing it at events like the Goodwood Festival of Speed and Monterey Car Week. And for those in the United States, there's more good news. While the standard G61 BMW 5 Series might not be available, there are strong indications that the G99 BMW M5 Touring will grace American roads.
In Conclusion
The 2025 BMW M5 Touring is more than just a car; it's a statement. It embodies BMW's commitment to delivering unparalleled performance without compromising on style or luxury. As the release date approaches, the anticipation only grows, making it one of the most awaited launches in the automotive world.