Mercedes-Benz VISION EQXX, Future Mercedes-Benz EV Prototype
By Rebekah Brace
Mercedes-Benz VISION EQXX – Mercedes-Benz seems to be actively preparing for the EV market next year. Moreover, they have been preparing for this plan since a few years ago with Mercedes-Benz vision EQXX. The Vision EQXX is not a commercial car. However, it is still interesting to see this car design and what it can do. At least we can predict what kind of EV product this car manufacturer will release in the future.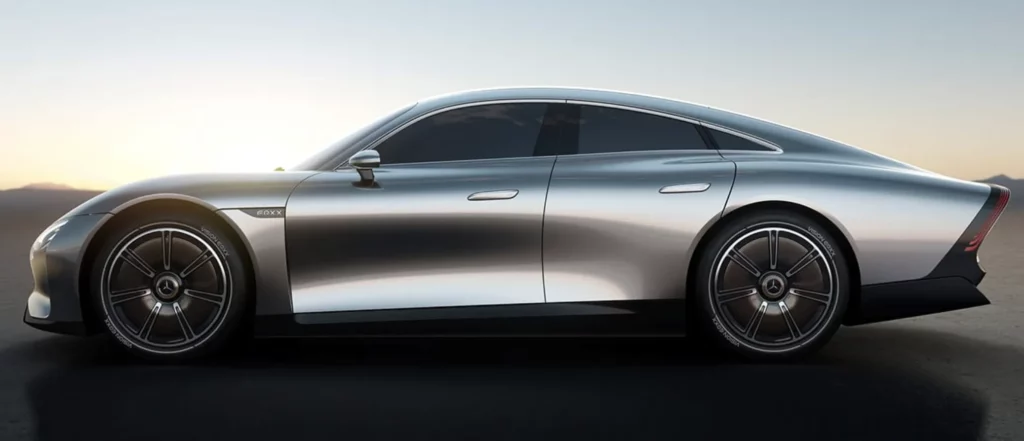 Mercedes-Benz VISION EQXX Specs
VISION EQXX EV traveled 750 miles (1,200 km) on a single charge
The VISION EQXX EV project's purpose is to improve the efficiency of the EV products of Mercedes-Benz. They created this vehicle with a 100 kWh battery pack. However, this car has better energy efficiency than other vehicles with similar battery specifications. Other products can't reach more than 500 miles with the full-charged 100 kWh battery pack. However, VISION EQXX has completed a 750-mile (1,200 km) journey from Germany to the UK. In April, they also held a test with the electric vehicle for the trip from Sindelfingen to Switzerland. It was a 620-mile (1,000 km) trip. So, the latest test has shown significant improvement.
Other than the power train system and its battery lifespan improvement, Mercedes also created different aerodynamic features for this new vehicle. This design has successfully achieved a drag coefficient of 0.17. Interestingly, the Mercedes-Benz VISION EQXX trip uses a normal driving style. According to the report, they didn't try different driving methods like hypermiling or something like that. The vehicle's average speed during this trip is 83 km/h (52 mph), which is the average speed that people use for a trip with a car like this.

The trip is by no means easy. This mercedes benz vision eqxx ev runs from Stuttgart to the French by using the northern route. It uses highway speed and arrives at Calais before it enters Eurotunnel. After that, it continued the journey to the UK. Once it reached the UK, it took the M25 route around London before a stop at the Mercedes-Benz Grand Prix in Barkley. At the destination, there were already Formula 1 and Formula E experts that checked the vehicle's condition. They are the same team that developed the advanced drivetrain you can find in Mercedes-Benz VISION EQXX. Then, this car was carried to Silverstone, where the special guest driver, Nyck de Vries, tried to test this car's performance. He went 140 km/h on this race track and completed 11 laps.
The Mercedes-Benz VISION EQXX's condition was still good. It was all thanks to the unique and innovative thermal management system. This system allows it to have an average consumption of 8.3 kWh/100 km even though it faces the high temperatures of summer and heavy traffic. The entire journey took 14 hours and 30 minutes from start to finish in the United Kingdom. read also: 2025 VW Tiguan – New EV Car from Volkswagen
We have information about the specifications of the Mercedes-Benz VISION EQXX. Here are the reasons why this EV can do well on its test journey from Germany to the UK.
The battery capacity is less than 100 kWh.
Its rated voltage is more than 900 volts.
Energy consumption is 8.3 kWh per 100 km.
The drag coefficient value is 0.17.
Mercedes Benz Vision EQXX Release date
Unfortunately, the Mercedes-Benz vision eqxx is not a production car. Therefore, you won't find it on the market. It is only a test vehicle to find the best setting to improve the EV efficiency for the next product from Mercedes-Benz. However, we can say that Mercedes-Benz has successfully produced the best result. There is no info about mercedes benz vision eqxx price.
Mercedes-Benz Vision EQXX EV FAQs:
What is the Mercedes Benz Vision EQXX dimension?
As for its dimensions, we see that it falls into the medium-sized car category. The front side is 2.12 m2. The wheelbase is 2,800 mm. The body length, width, and height are 4,975 mm, 1870 mm, and 1,348 mm, respectively. Its weight is 1,755 kg.
What is Mercedes-Benz Vision EQXX electric range?
It has a range of more than 1,000 kilometers on a single battery charge, which equates to a consumption of less than 10 kWh of energy per 100 kilometers.